Posted

by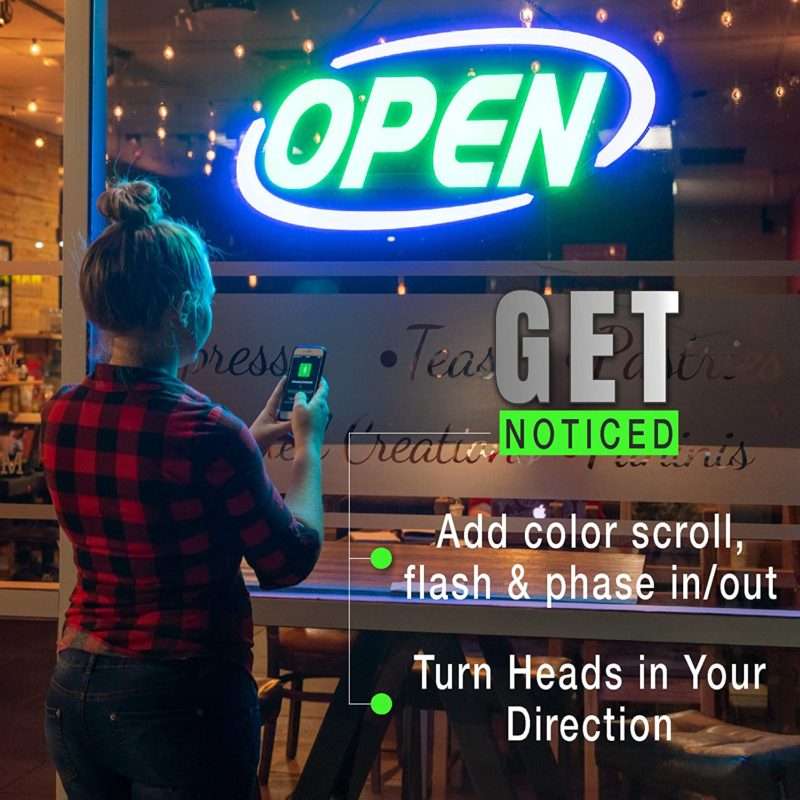 As more shopping moves online, brick and mortar shops have to work hard to stand out. Appearance matters and you need to do all you can to attract customers. 
Here's the good news: It's easy to enhance your store's appearance. 
All it takes is cleanliness, eye-catching details, and the ever-essential open sign. An LED or neon open sign tells the public your store is ready for business and acts as an invitation at the door. 
Choosing where to buy an open sign can be tough. Green Light Innovations is one of the best places to buy open signs on the internet. We offer customizable options and environmentally-friendly design. 
Read on to learn more about: 
Why an appealing storefront is important 

How to improve your store's appearance

The significance of LED and neon open signs for your business 

Why Green Light Innovations is the right choice for you
Why a Welcoming Storefront Matters
Yes, shopping is moving online — but not all of it. According to a Service Channel study, 86% of consumers shop at physical store locations for more than half of their purchases. 
A Retail Customer Experience survey found that 95% of consumers say a store's exterior appearance factors into their decision about whether to shop there. Another poll noted that 80% of consumers would try a new store if the exterior were properly maintained and inviting. 
First impressions matter. 
If your business is nestled in a strip mall or on the side of a busy road, you want to provide a welcoming place for people to stop for lunch or send their dry cleaning. Take time to focus on your storefront, and stock up if you're missing any details like benches or an LED open sign. 
How To Create an Attention-Grabbing Storefront
It's easy to neglect your storefront if you devote all of your attention to your business's interior and products. Those aspects are indeed essential. But, if people avoid your store because of a dirty sidewalk or burnt-out LED open sign, then it doesn't matter how good your offerings are.
Here are a few tips for improving your storefront:
Create a friendly environment 

Keep your store clean

Make your store visually appealing 

Buy an open sign 
Create a Welcoming Environment
Take in the big picture of your store by looking at it from a distance. Does it look inviting and friendly? And if not, why is that? 
Can you buy a few plants or provide some outdoor seating for your guests? Do you need to add a welcome mat or sweep the sidewalk? Even small touches can make a big difference. 
Maintain Your Store Space
Be sure to keep your storefront clean and maintained, whether you hire someone or do it yourself. Ensure the sidewalk is swept, fix any holes in the pavement, and keep your windows nice and clean.
Also, make sure to prepare for shifting weather. That might mean umbrellas on your tables for hot days or having tools available to combat ice build-up. 
Make Your Signage Interesting 
Signs work. Be thoughtful when designing your signage. Make sure it's easily recognizable from a distance and that it gives visitors a sense of your store. 
A funny store name or a creative sign can show your personality and intrigue potential visitors. 
Find Out Where To Buy an Open Sign
A neon or LED open sign tells customers far and wide that you are open for business. 
When deciding where to buy an open sign, skip the wholesalers and choose a business that cares about its product. At Green Light Innovations, we don't treat open signs as an afterthought — because they shouldn't be. 
The History of Open Signs
Open signs have been a staple of the business world for a very long time. But one of the biggest advancements in open signs came in the early 1900s when French inventor George Claude introduced the neon sign at the Paris Motor Show. 
Since then, the neon sign has developed a rich history in American culture. Neon signs came to the U.S. in the 1920s and could cost as much as a few thousand dollars. If a business could afford something as expensive as a neon sign, it was a "sign" the business was doing well. 
It wasn't until the 1980s that the classic neon open sign became a staple for businesses. As technology advanced, neon open signs gave way to LED open signs, giving business owners more options to customize their signs.  
The Significance of Open Signs
A neon open sign might seem inconsequential, but it's an essential piece of the puzzle that can lose or gain business. If your open sign is broken, customers might assume you're closed, and they'll head to a competitor instead. 
But more than that, a neon or LED open sign is a signal of hope. An open sign serves as a beacon of connection between businesses and consumers, whether they're braving a winter storm in search of supplies or trying to find an open business during a pandemic. 
Open signs show resiliency for small businesses. Turning yours on is a show of pride. 
Best Place to Buy Open Signs: Green Light Innovations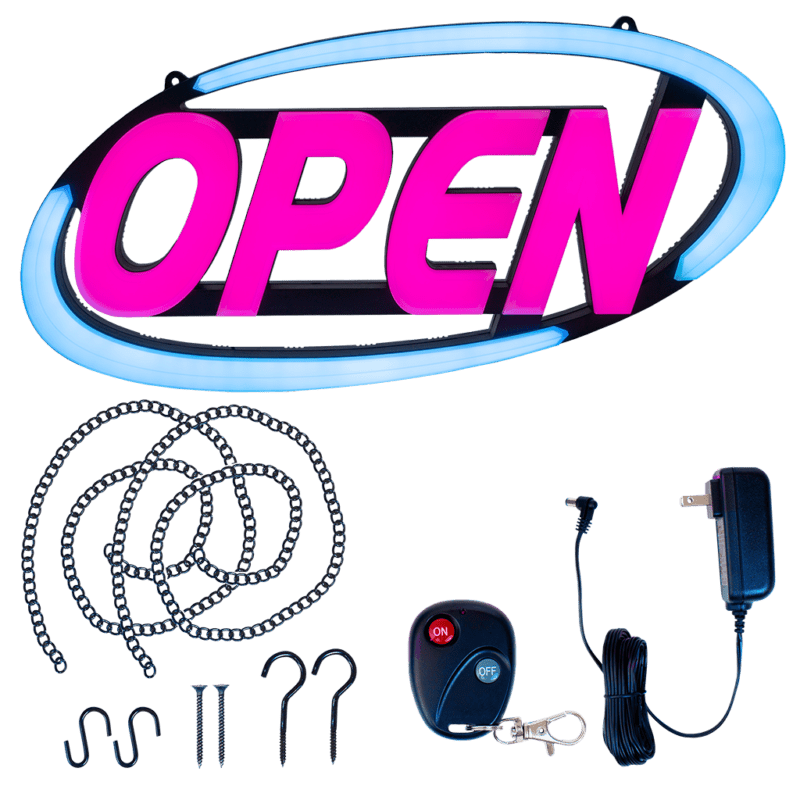 Whether you opt for a traditional neon open sign or a customized LED open sign, Green Light Innovations has what you need. 
We offer affordable choices that are long-lasting and reliable to ensure your business's success. 
At Green Light Innovations, we care about our products. We work to ensure our open signs are energy conscious and feature the latest technology. We provide a high standard of quality for our customers and strive to offer business solutions with integrity. 
We have a variety of sign choices and can even work with you to create a custom sign. Whatever you need, we've got you covered, down to the chargers and batteries.
Final Thoughts: Better Business with Neon and LED Open Signs 
An attention-grabbing storefront will help attract more visitors, which will increase sales and your business's longevity. 
Spend time making your storefront inviting for customers. Make sure your sidewalk is clean, signage is appealing, and that there's an LED or neon open sign in the window. 
Don't overlook the importance of an open sign and what it can do for your business. Green Light Innovations is the best place to buy an open sign if you're a business owner looking to spruce up your storefront. 
Do you have a unique idea for an open sign? Work with Green Light Innovations to create your custom vision today.